January 2005
This page features a commentary on the current market for British coinage 1838-1970. The views here are strictly my own.
The results from the Heritage auction are in. The market is heating up in some small niches, but I see a downdraft in prices in the broader market. In this article, I analyze coins sold in my area of expertise - minors farthing through halfcrown, 1839-1970. All statements made in the report are constrained to that grouping only.
What is Hot
The market is heating up on absolutely top grade Victorian and Edward VII material. Most of the PCGS MS65 and MS66 offerings had hammer prices that far exceeded even the Spink 2005 catalogue values. There is a clear need for catalogue pricing to include such gem specimens.
Analysis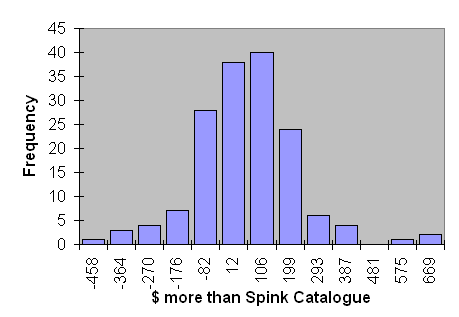 The histogram shown above captures the distribution of price differences between actual hammer price (plus buyer's premium) and the 2005 Spink catalogue prices for 158 auctions (mostly for single coins). The mean and median price difference are both only about $5.
The coins showing the biggest increase over their prices were: (1) an 1870 shilling, PCGS MS66, hammering at $1,093 and realizing $669 over the Spink catalogue value; (2) a PR66 (PCGS) 1887 proof halfcrown, coming in at $598 over its catalogue price and (3) an MS64RB (PCGS) 1869 halfpenny, pricing at $1,323, $569 over its catalogue value (the Spink value was derated from £500 to £400 because the sold item is not full lustre).
A boxplot analysis (below) of PCGS and NGC side by side showed that PCGS coins sold at a higher price relative to Spink catalogue than did NGC, even when looking at coins graded at the same level. NGC MS66 coins sold near Spink prices, while PCGS MS66 sold for about $170 over catalogue (median). In the MS65 class, PCGS coins beat out NGC by a median of over $100. A similar trend is seen for MS64 and MS63 material.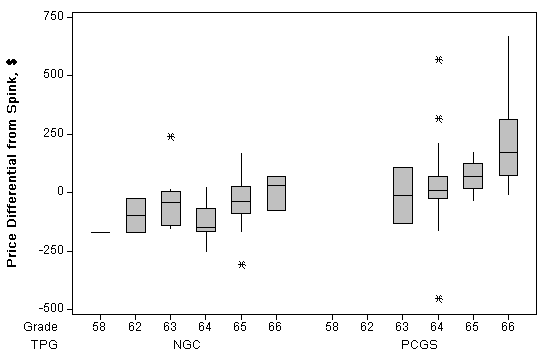 So there is a statistically significant difference in price performance normalized to Spink prices between TPGs. Why is that? Is there really a difference in the TPGs?
Unfortunately, the comparison is not apples-to-apples. The pictures Heritage had for many of the sixpence offerings in NGC holders were simply not as good as the ones shown in the PCGS holders. Those coins that happened to be NGC certified that were sold as part of the first Victorian sixpence and shilling group did well also. There were two different views of both sides of many of the premium PCGS pieces, including a view that captured the coin's lustre quite effectively.
The PCGS coins also had many pictures in the color catalogue mailed to bidders. Many of the NGC coins had a single view that made the coins seem unattractive with flat lustre. The second set of sixpences had no photographs in the paper catalogue and they were all grouped together with little breaking in the print. The median grade on a PCGS coin as 65 while it was only 64 for an NGC. These factors likely affected the prices internet buyers were willing to pay.
There were a few bargains to be had in this area. The biggest one I observed was an 1892 sixpence in MS66 (NGC) fetching only $92.00!
I have to say that I was quite pleased with all the coins I was fortunate enough to win, be they NGC or PCGS!
Note: MS64, 65 and 66 coins were compared directly to Spink UNC values (except in the case of some bronze and copper coins that lacked full lustre). MS63 had values slightly derated from full UNC catalogue. MS60-62 was treated as AU while AU was treated as Spink EF.
---
Note: the views expressed in this commentary are my own and are not to be construed as any form of financial advice. As with any market sector, the British coin market will fluctuate unpredictably depending on demand, currency value and world events. Collecting coins as an investment vehicle carries with it risks that the investor must understand and accept before making the decision to do so.
Copyright 2005 by Wybrit British Coins. Reproduction prohibited.